Backward And Upward
To explain where the 1LE came from, we need to go back in the time and head north, all the way to Canada. It was during the 1985/1986 Canadian Players Challenge racing series when racing Camaro's sprinted in 30 to 45 minute jaunts around various road courses throughout North America. While this was flat-out racing with no pit stops allowed, the cars had to retain the factory-installed equipment, hence the term "Showroom Stock." Racers were allowed to change shocks, struts, wheels, and tires, but the rest of the suspension had to remain factory showroom stock. The third-generation Camaros of the 1980s suffered tremendously from poor brake performance, and even when a Camaro finished a 45-minute race, the driver was considered lucky if he had brakes at the end. Because of this, GM of Canada began pushing for a heavy-duty brake option on the Camaro. Back in the United States, the Camaro's reputation for weak binders was also discovered as it competed against the Mustangs in SCCA and IMSA road racing, autocross, and Pro Solo racing events. Something had to be done.
That's when Phil Minch, a GM brake parts engineer began researching better binders for the Camaro. Minch discovered that the Camaro and Caprice shared the same front bearing package and quickly adapted the Caprice's big 12-inch front disc brake rotors onto the Camaro's spindles to replace the spindly 11-inch rotors. This obscure brake swap became the genesis for what would eventually be known by its Regular Production Option code: RPO 1LE. Minch worked with Chuck Hughes, chief engineer of the Camaro platform, and Ray Canale, powertrain manager for the F-car line, to obtain a Camaro equipped with the Caprice brake package for testing. But this brake swap also needed a better caliper. After a little more research, the two-piston aluminum Corvette caliper, manufactured in Australia by PBR, was ordered, but it wasn't a simple bolt-on. The stock Camaro spindle now had to be modified to accept the new caliper, which added to the cost of the project. A change to the rear brakes was also discussed, but since Camaros could already be ordered from the dealer with factory four-wheel discs, the engineers felt that the stock rear discs would be adequate, and they included the rear discs in the 1LE upgrade.


Test Car

Track testing was coordinated through an outside company known as Special Vehicle Developments, which was owned by Bill Mitchell. The newly modified Camaros were delivered to Road Atlanta's 2.5-mile road course in essentially Showroom Stock condition without A/C and power accessories for testing. Initial tests proved encouraging but the differences in front-to-rear braking bias was more than the factory non-adjustable proportioning valve could handle. So a new proportioning valve was installed and brake performance improved dramatically. The new 12-inch rotors and aluminum calipers combined with the rear discs, improved braking reliability by a huge margin.
The new brake systems was well received by race teams, but this created a new problem. Given this tremendous new braking ability, the Camaro's tank mounted fuel-injection pump could be starved fuel and the engine stalled under hard braking. The solution was to completely redesign the fuel tank, installing baffles and a new pick-up/sock design to keep the pick-up submerged even when the fuel level dropped below a quarter of a tank. This was important because in the Canadian Players Challenge series the cars were not allowed fuel stops. Fuel management became critical during the 45 minutes of all-out racing. And, of course, the rules required that race cars use the original fuel tank/pump/pick-up. Sometime after 1990, the updated fuel tank systems was integrated into every Camaro sold.


More Changes
Out on the racetrack, the faster cars quickly uncovered new challenges including a lack of torque in fifth gear. Race rules allowed very few engine modifications to increase power. Only basic balance and blueprinting could be performed along with blueprinting the fuel injectors and related components. Unlike NHRA Super Stock cars of the day, these Camaros had to really run stock. They were not powerful race cars, although a properly balanced and blueprinted engine of the day could squeeze out almost 400 hp.
This was not enough to motivate the heavy Camaros past the lighter Mustangs, and passing was impossible in the high speed straights. The lack of fifth-gear torque was a direct result of GM trying to improve fuel economy and emissions for the everyday car buyer. Originally, GM equipped all five-speed manual F-car transmissions with a 0.62:1 overdrive fifth gear. This gear was too tall and the Camaros couldn't even get out of a Mustang's way on the long straights. A steeper 0.74:1 gear ratio was slipped quietly into all five-speed transmissions slated for installation into the 1LE Camaros. The gear swap was combined with an aluminum driveshaft to lighten the car and decrease the drivetrain's rotating mass saving power. This all became a factory-installed option, thereby meeting the rules and keeping costs down as well.
So the 1LE option became more than just a brake upgrade. And in order to keep these specially-equipped race Camaros as light as possible and out of the hands of just any buyer, Chevrolet decided to delete air conditioning and all power amenities from the 1LE-equipped Camaros. This, they thought, was surely enough to turn away all but the most devoted racers. (true)

According to Chevrolet, in 1989 only 111 1LE optioned Camaros were sold. But two years later, after the 1LE became known as the option to buy if you wanted a Z/28 that was faster than your buddy's, a total of 478 1LEs were driven off the dealer's lots. The biggest selling year for the 1LE was 1992 when 705 units were sold. There was no way that many Camaros were competing nationwide; a bunch of them must have found their way into the hands of collectors and enthusiasts. (true) By 1990, a 1LE-equipped Camaro sold for a dealer's list price of around $15,900US. Since the 1LEs were stripped of heavy or power-robbing, expensive, and sissy-ish air-conditioning, monster stereo systems, power leather seats, automatic door locks, power trunk, cruise control, and flimsy T-tops, they were very lightweight and affordably in-expensive cars, which also contributed to the 1LE's allure. (my 1994 fourth generation 1LE Z/28 weighs 3,100 pounds wet!)
The Fourth Generation Cars
The fourth generation Camaro was introduced in 1993 and was instantly popular. What the 1LE racers wanted to know though, was how this change would affect the cars they would now be competing in. Chevrolet did offer a 1LE options on the fourth generation Camaros in 1993, but few were actually ordered. Some new updates were then included to make the 1LE option more appealing to the buying public. The addition of a Borg-Warner T-56 six-speed manual transmission made a great impact as the fifth and sixth gears added to performance and also to top end. T-56 transmission ratios: first: 2.66, second: 1.78, third: 1.3, fourth: 1:1, fifth: 0.74, and sixth: 0.50.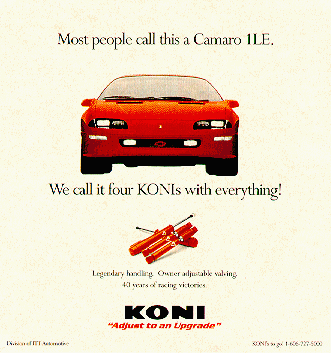 Koni had become almost the exclusive manufacturer of the racing shocks which were usually installed in preparation for competition on all 1996 and later 1LE Camaros after they left the showroom floor. The Koni double-adjustable racing shock was well accepted and successful trackside, but thought to be too high-end for public use.
For the fourth generation, Koni contracted with GM to become the new shock supplier for all 1LE Camaros. The 1993s already came with an upgraded antilock braking system that was lightyears ahead of the third-generation version and if you bought a 1LE-equipped Camaro after 1993 you'd get much more than that for your money. GM began supplying Koni shocks on all four corners and including a little-known, unmarked instruction sheet in the glove box of each car explaining how to tune and adjust the shocks for the best handling on any track surface.
Along with the Koni shocks, Chevrolet really went all-out on the suspension upgrades for this model. Chevy also offered higher-rate durometer bushings on the front and rear control arms and panhard bar, stiffer coil springs on all four corners, a larger 32mm front sway bar, 21mm rear, and a beefier transmission mount for manual transmission-equipped cars as part of the 1LE package. This 1LE package was now being targeted at performance enthusiasts, not just hard-core racers, and in 1996 all Camaros came standard with air conditioning. Another little known fact is that all fourth generation Camaros came standard with a black painted roof, but the 1LE-equipped cars could be ordered with a roof painted to match the body color. All 1LEs automatically deleted the fog lamps on Z/28s, adding another outside telltale sign to its performance potential (someone at the Koni graphics arts department didn't notice that fog lamps are erroneously present on the Z/28 used in the Koni advertisement) however starting in 1996, you could order fog lamps (thanks for that tip, Adam Donikowski!, a proud '96 1LE owner).
Sometime around 1995, Chevrolet no longer wanted to sell these cars only to racers and even promoted the 1LE option, now know as the Performance Suspension Package, in its public relations packets which is sent out to media and dealerships nationwide. What began as a hard-cord racing upgrade, meant only to win races at the track, turned into what is now a popular sales incentive for performance enthusiasts looking for just a bit more out of the Camaro. As Chevy points out in its own literature, the 1LE is "engineered specifically for professional racing and is intended for serious performance enthusiasts only."
The 1LE option was discontinued in 1999. GM's reason was the cost of keeping an inventory of parts for such a low production vehicle was not profitable. SLP brought back the 1LE option in 2001 on Camaro SS and Firebird Firehawks ordered with RPO Y2Y options. There are also no longer restrictions on comfort options and the SLP 1LEs are available with what serious performance enthusiasts may call sissy-ish things like air-conditioning, power leather seats, power windows, power locks, cruise control, T-tops, etc.

Since T-tops are standard on the Trans Am and Formula for 2002, all Firehawks will have T-tops, too.